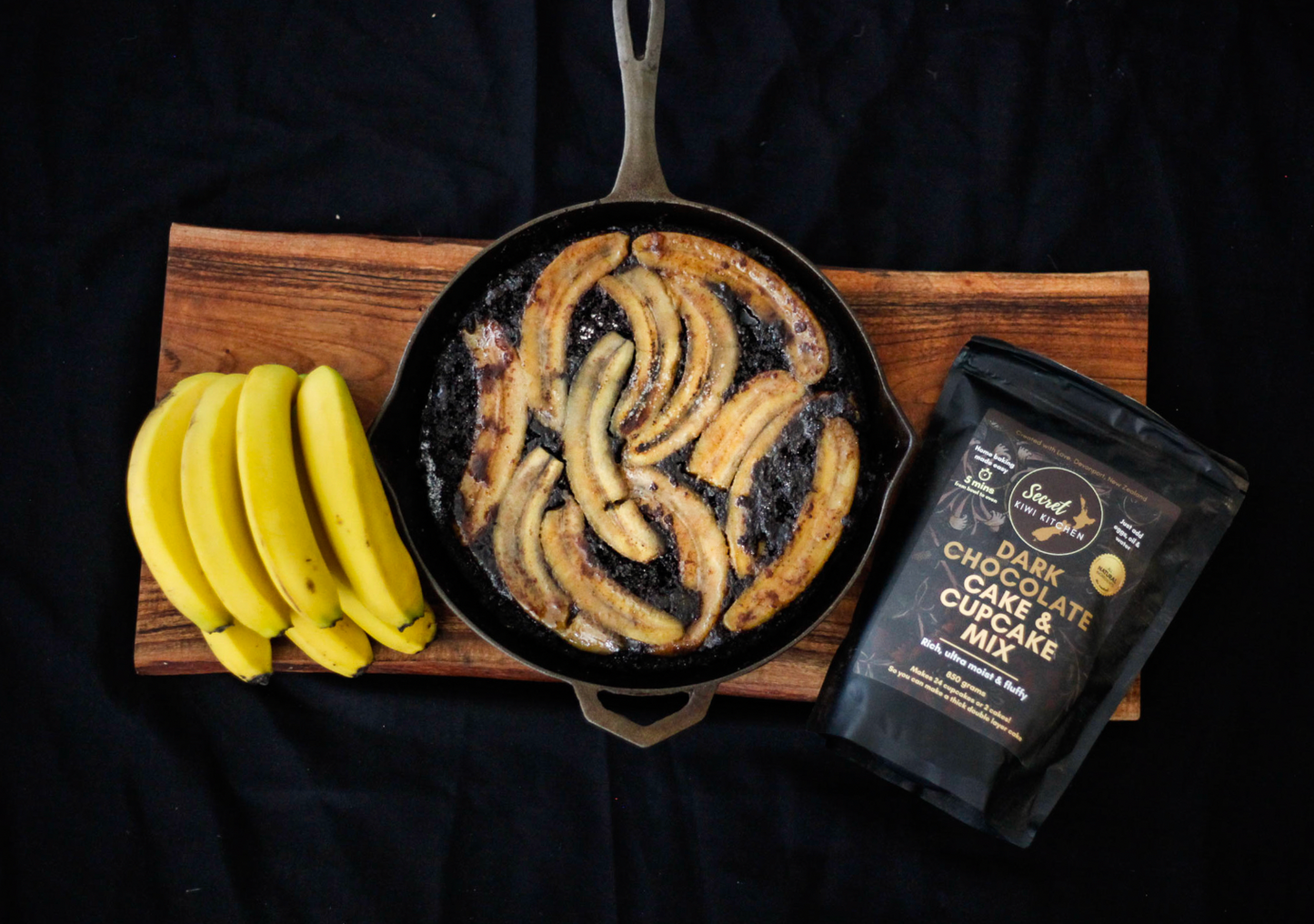 Why are upside down cakes so mesmerising? At SKK, we are absolutely besotted with them! They add a magical touch to the simplest of cakes. Perhaps, because it reminds us of 'grandma' and elicits feelings of nostalgia for simpler and purer times.
As far as upside down goes, you can't beat this delicious banana cake. Full of vintage glamour, it combine two of grandma's favourite things: upside-down cake and a trusty cast-iron skillet*. Caramel, chocolate and banana with a hint of cardamon and allspice: what's not to love! Some combo's are timeless! 
Ingredients:
Topping
150g (¾ cup, softly packed) brown sugar

75g butter, diced

5 small bananas, peeled and cut lengthways
Cake
Secret Kiwi Kitchen chocolate cake mix (if using the 850 gram bag, use only 425 grams)

1/4 cup vegetable oil

1 egg

3/4 cup water

pinch of any of the following or all: cinnamon, cardamon, allspice, ginger
Method
Preheat oven to 180 c.
Prep SKK chocolate cake mix as direction on package (if using the 850 gram bag use 1/2 of mix and 1/2 of added ingredients). We recommend as well reducing the water from 1 cup to 3/4 cup to make a denser cake.
In your favourite ovenproof heavy bottom skillet*, melt butter on the stove over medium heat. Stir in brown sugar until dissolved. Cook and stir until thickened and caramelising, approximately 5 minutes Remove from heat. Arrange bananas, cut side down, in a single layer over brown sugar mixture.  
Tip: Place the bananas as tightly as possible in the base of the tin for the best visual effect.
Pour prepared cake mixer over the top and gently spread out evenly over the bananas. Place in oven and cook approximately 30-35 minutes, until a toothpick or knife comes out mainly clean. It is better with this recipe to err on the more cooked side.
Remove cake from oven and allow to cool before turning over onto a serving dish. We flipped our cake onto a cutting board and place bottom-side up back into the skillet pan. One less dish to wash! And a rustically beautiful presentation too! 
Serve with icecream or cream and some chocolate and or caramel sauce.
* Our favourite cast iron skillet, pictured here is handmade in NZ from recycled iron by the IronClad Co