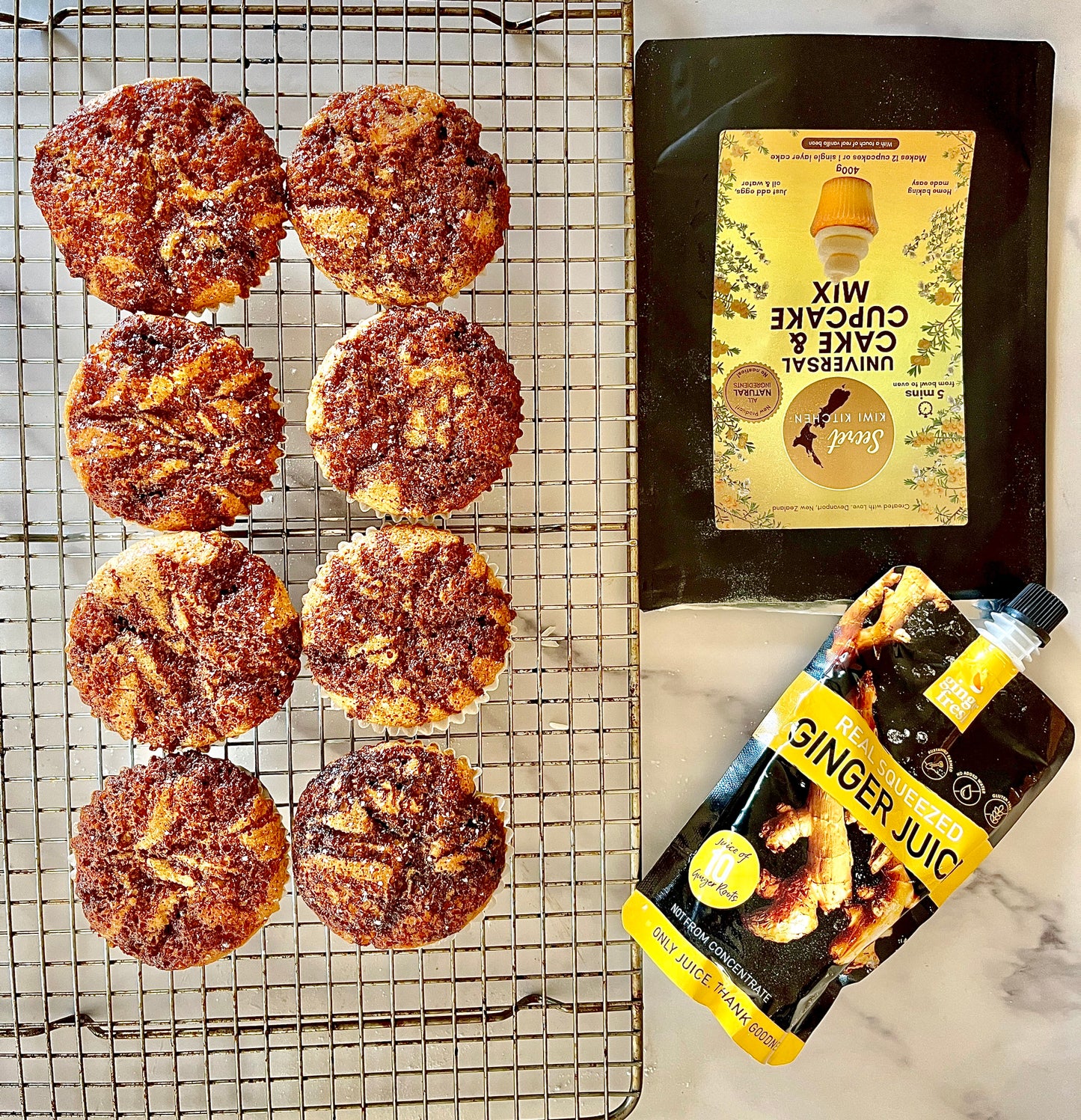 Are you ready to embark on a delightful baking adventure? These Ginger Molasses Muffins are a true embodiment of sweet, spicy, and utterly comforting flavours. The best part? You can whip up this scrumptious treat effortlessly using Secret Kiwi Kitchen's Universal Cake Mix as your secret weapon. Let's dive into the magic of these muffins!
Ingredients:
1 bag of Secret Kiwi Kitchen Universal Cake Mix
1/3 cup ginger juice (substitute for water)
1/2c cup oil or butter
2 eggs
1/2 cup finely chopped candied ginger
1 teaspoon spice mix (you can use a blend of cinnamon, nutmeg, and allspice)
Molasses (for drizzling)
Instructions:
Preheat and Prep: Preheat your oven to 350°F (175°C).
Place muffin liners in a muffin tin. Here's a pro-tip: Add a few rice kernels to the bottom of each muffin cup beneath the liner to keep it dry. This will ensure easy removal and a neat presentation.
Prepare the Mix: Take your Secret Kiwi Kitchen Universal Cake Mix and follow the instructions on the back. Instead of water, substitute 1/3 cup of ginger juice. This will infuse your muffins with a delightful zing. 
Now comes the fun part! Fold in the finely chopped candied ginger and the spice mix into the cake mix. These additions will provide bursts of ginger goodness and warm, aromatic spices with every bite.
Fill the Muffin Cups: Using an ice cream scoop or a spoon, fill each muffin cup about two-thirds full with your ginger-spiced cake batter. Leave a bit of room for them to rise.
The Molasses Drizzle: Just before baking, drizzle a little molasses over the top of each muffin. This will create a beautiful, gooey, and slightly caramelized finish.
Baking Time: Slide your muffin tin into the preheated oven and bake for approximately 30 minutes or until a toothpick inserted into the center of a muffin comes out clean.
Cool and Enjoy: Remove the muffins from the tin and let them cool for a few minutes on a wire rack. This step is crucial for achieving that perfect texture – moist on the inside and slightly crispy on the outside. Indulge: Once they've cooled just enough, it's time to dive in! These ginger molasses muffins are a delectable treat for any time of day. Enjoy with a hot cup of tea or coffee, and savor the sweet and spicy symphony. There you have it, a delightful batch of Ginger Molasses Muffins made with love and Secret Kiwi Kitchen's Universal Cake Mix.
It's a simple yet impressive recipe that's perfect for sharing with loved ones or savouring during your "me-time" moments. Happy baking! 🧁🍬🍰