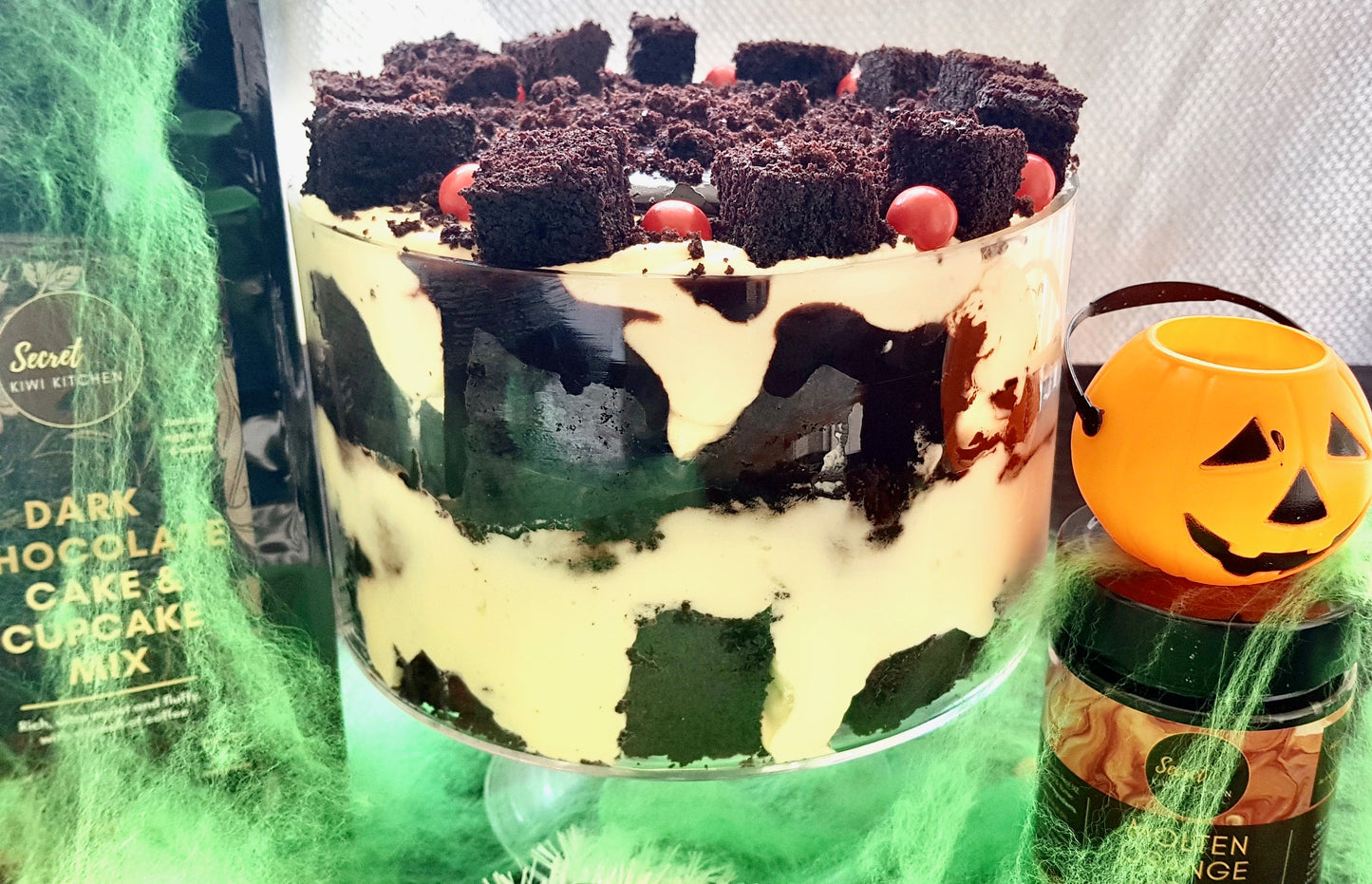 Halloween is just around the corner. It's time to start thinking about some treats for the small people… ok, for the big people too, let's be real. Lucky for you, things this year just got easy, because Secret Kiwi Kitchen has got you covered. 
There are endless possibilities with our easy home baking mixes - just let your gruesome imagination run wild! 
How about chocolate fudge monsters? Scoop Secret Kiwi Kitchen fudge sauce into balls and freeze for several hours, then decorate and mold to your desired scary creature. Stick on mini chocolate chips for eyeballs, easy as.
Shape Marshmallow Fluff creme into wee ghosties, or grab some cookie cutter shapes and pour in, making cool shapes on toast- for directions on our previous blog post HERE.
                                                             Picture by Laura Young- The Culinary Letter

The piece de resistance has to be though, The Terrifying Trifle!
Which is not terrifying to make at all. I'm fact it's couldn't be easier, and yet everyone will assume you've spent hours in the kitchen slaving away. Mwoahahahaha <insert evil Halloween laugh here>

All you have to do is make up Secret Kiwi Kitchen's delicious Dark Chocolate Cake mix in your two 8" pans, cook as directed and let cool. While you're waiting, whip up some cream and add some extra yummy Marshmallow Fluff sauce...ohhh so naughty! (You're definitely allowed to lick the bowl)
When the cakes are cool, turn them out onto a board and cut into square pieces. Layer inside your trifle bowl. Don't put the pieces too close together because you want the sauces to drizzle down in between them to the bottom. 
Now this next step is optional, but we added Secret Kiwi Kitchen's decadent Chocolate Orange Fudge sauce over the cake pieces. Then a very generous layer of cream. Then another layer of cake squares and more sauce and cream!
To decorate, we cut some left over cake into fingers and placed around the edge of the bowl.
We poured some more sauce in the middle and then sprinkled cake crumbs on top of that. To finish we placed orange Jaffa's on top just because it's
but feel free not to add any colour!
It's pretty spooktacular, we have to admit <sorry>
Secret Kiwi Kitchens Chocolate cake mix is soooo generous that even after making that great big trifles you still have enough over to make cake pops!
Crumble your left over cake pieces into a bowl and mix it with our fudge or mallow sauce, or even with your favourite butter cream recipe. Roll your batter into balls and refrigerate for a couple of hours. Now stick the balls onto a fork or lollipop stick, dip them into melted chocolate, and let it harden. Decorate as much as you want to create your monster - you could have anything, from a zombie bat 🦇 to an eyeball. Easy, delicious, and impressive! 
Halloween baking with our easy home baking mixes has never been easier or tastier! What are you waiting for?