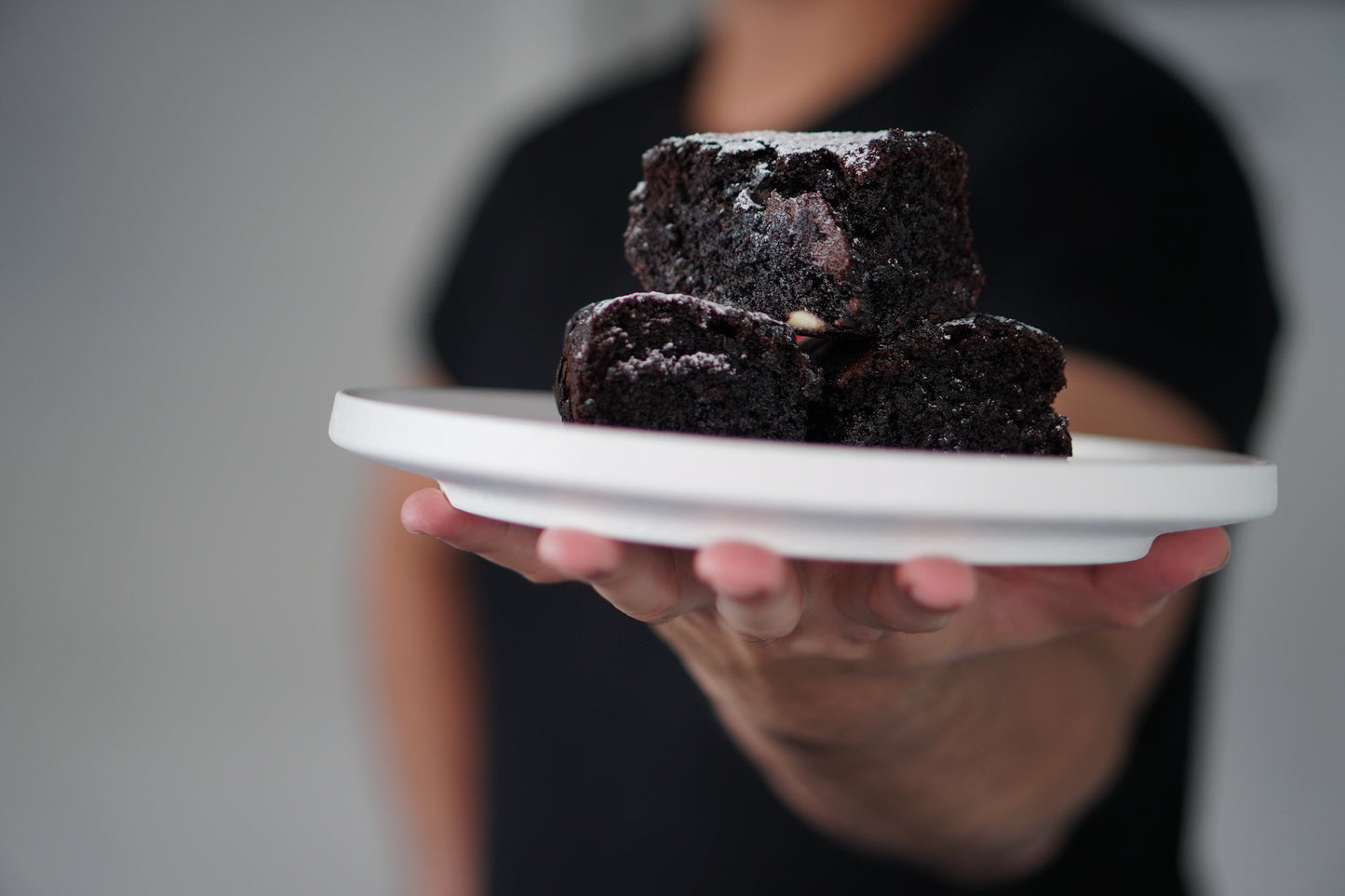 Since we started Secret Kiwi Kitchen, we have had many questions.
One of the most common questions apart from, "how do you make it so delicious?" is "can you make it without eggs or butter?".
We are happy to report the answer to the latter is yes (the former is a secret - shhh!).
Busy in our test-kitchen, we decided to try creating a delicious brownie and blondie without eggs or butter.
We were sceptical at first whether the taste would still be amazing, but we tried anyway!
Here's what we did
We tipped the brownie mixture into a bowl and added 1 cup of yoghurt and half a cup of oil. We then put it in a lined, 8in by 8in baking tin for 30 minutes, and, holy guacamole, the results were incredible.
The brownie was extra moist, the edges were super chewy, and everybody who tasted it gave it an 11/10.
In fact, one person reported "That could be the best brownie I've ever tasted in my life - and I've tasted a lot."
We cut the brownies straight down the middle, and topped half with mallow sauce and popped it under the grill for a few minutes to get that delicious s'mores effect.
For the other half, we added frozen berries to a saucepan, added a little bit of water and icing sugar, and let it cook down. Then we placed it on a plate beside our delicious eggless brownie dessert and we have two outstanding-looking treats that would be perfect to take to a dinner party as a fabulous dessert.
Everyone will think you've slaved away for hours in the kitchen! They needn't know it took no time at all. That can be our little secret (kiwi kitchen). 
Credit: SnackBro.nz
What about the blondies?
Not satisfied with just testing the brownie, next up - the blondie.
We melted 150 grams of Vutter (which is a plant-based alternative to butter and also a fellow Devonport-based company) in the microwave for 1 minute and added it to the blondie mix with a teaspoon of natural almond essence and half a cup of Greek yoghurt.
We mixed it all together, placed it in a lined, 8in by 8in tin, and put it in the oven for 30 minutes. We added an extra few minutes on our usual baking time due to the extra moisture.
We were excited and apprehensive for the result. Would it be a huge fail? Or would it be amazing?
We are super happy to announce the final product was a big thumbs up. Extra tasty, egg-free, AND butter free!
Spurred on by this success (there's no stopping us now) and having been inspired by a beautiful dessert we saw on Pinterest, SKK hot-tailed it to New World, where we picked up a jar of pitted cherries.
We strained out most of the juice and added the cherries to the bottom of an 8in by 8in baking tin.
Into that, we added one teaspoon of natural almond essence. We tipped the blondie mix in a separate bowl and made sure it was all combined and sprinkled it all over the cherries.
Then we weighed out about 150 grams of Vutter and placed little dollops randomly on top of the mix. It was put in the oven at 180 degrees for about 40 minutes (or until the top starts to brown).
Would you believe this is possibly one of the tastiest desserts ever created? How easy was that! Just three steps to cherry and almond blondie crumble perfection.
You're welcome!