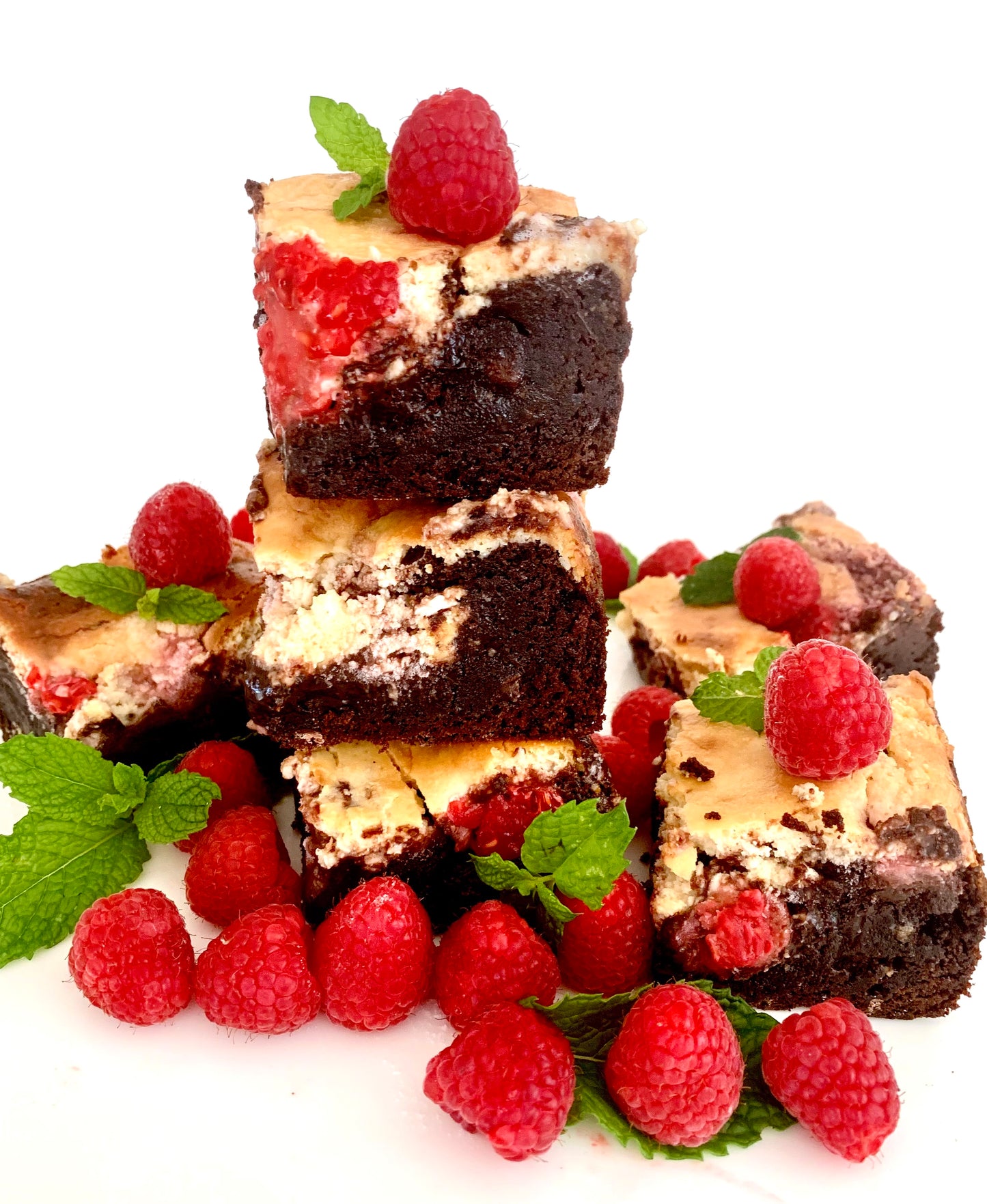 These cream cheese brownies are made with creamy cheesecake swirled into thick, fudgy brownies. It's a rich, decadent dessert recipe that's super simple to make! 
Anything double layered always looks eye catching. But when it's white and dark layers, it looks extra special and enticing. It also plants the seed psychologically that it's somehow difficult to make? "Oooh two layers, time, effort...looks tricky."
Truth couldn't be further away my friends! But if you want to pretend like you toiled in the kitchen for hours? We aren't going to say otherwise ;) 
So here we go. Preheat your oven to 180 degrees. Grease and line your 8x8 brownie tin. 
Grab your Secret Kiwi Kitchen brownie pouch and make up as usual, you and I both know THAT takes 2 minutes! Pour your mixture into the tin. Guess what, you're almost done already!!
Next put your pack of softened cream cheese (take it out the fridge 30 mins before you need it) and whip it up in your kitchen stand mixer, or with a hand held mixer until it's nice and soft and creamy. Next add 1/3 cup of icing sugar and 1 egg yolk, add a teaspoon of vanilla and whip, whip, whip!
Mix it until it's all beautifully combined together but don't over mix or it might go lumpy.
Spoon the creamed cheese mixture over the top of the brownie mixture and smooth out. Pop it in the oven for about 30 minutes. The cheesecake should still have a wee jiggle in the centre when you take it out.
Leave it to cool on the pan completely then cut into squares. You can leave it just like that or go a little extra and top with melted chocolate, or some brightly coloured berries or grated chocolate. Anything really! We promise you it will taste heavenly.
A 4-ingredient cheesecake mixture topping a decadent brownie batter creates a wonderfully tangy contrast to the rich chocolate. Race you to the kitchen!!