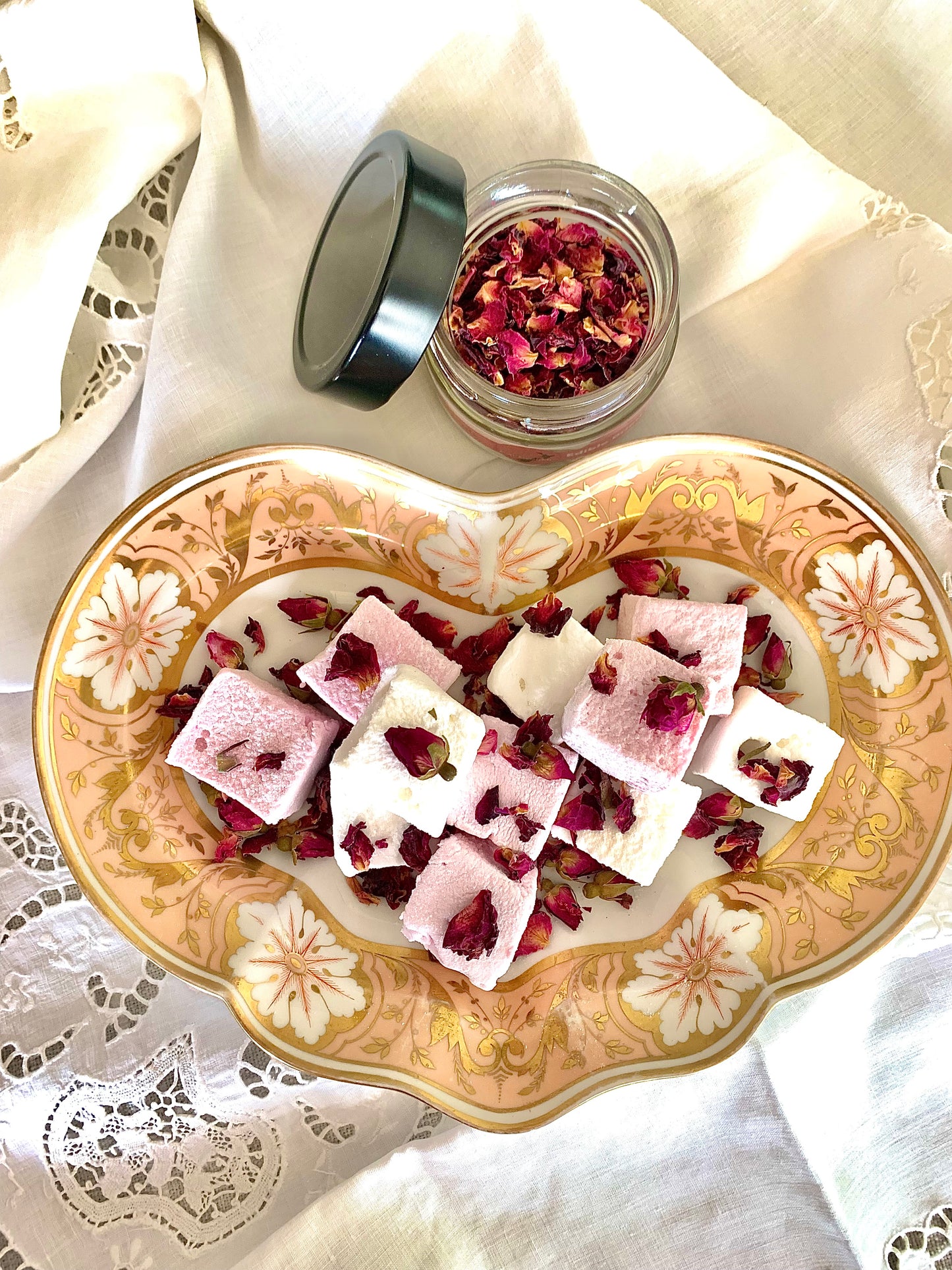 Fluffy and perfectly sweetened with a subtle hint of rose aroma and topped with edible rose petals, these delicious are for the perfect Valentine's treat! The recipe is adapted from our favourite Ina Garten's basic marshmallow recipe.
Ingredients 
3 packages unflavoured gelatine

1 1/2 cups granulated sugar

1 cup light corn syrup

1/4 teaspoon kosher salt

1/2 Tablespoon pure vanilla extract

1 Tablespoon rose water 

Confectioners' sugar, for dusting

3 Tablespoons organic rose buds or petals

Pink dye or a pinch of raspberry or dragon fruit powder to colour marshmallows pink (optional)
Equipment: A candy thermometer is  a must
Generously dust a 8x12 inch non metal baking dish or bread loaf pan with confectioners sugar. If you only have metal, then lightly grease first before dusting.
Combine the gelatine and 1/2 cup of cold water in the bowl of stand mixer or a large bowl if using a hand mixer and let sit.
In a small saucepan over medium heat add the sugar, syrup, salt, and 1/2 cup water and cook until the sugar dissolves. Raise the heat to high and cook until the syrup reaches 115 c /240 F degrees on a candy thermometer. Remove from the heat.
With the mixer on low speed, slowly pour the sugar syrup into the dissolved gelatin. Put the mixer on high speed and whip until the mixture is very thick and fluffy, approximately 15 minutes. Add rose water, 1 Tablespoon crushed rose petals and the vanilla and mix thoroughly. If you would like pink coloured marshmallows add a drop of food colouring or either raspberry powder or dragon fruit powder.
Pour the marshmallow mixture into the prepared baking pan, smooth the top, and dust with more confectioners' sugar. Allow to stand uncovered overnight until it dries out.
Turn the marshmallows onto a board and cut into squares. Sprinkle with confectioners sugar and the remainder of the rose petals.