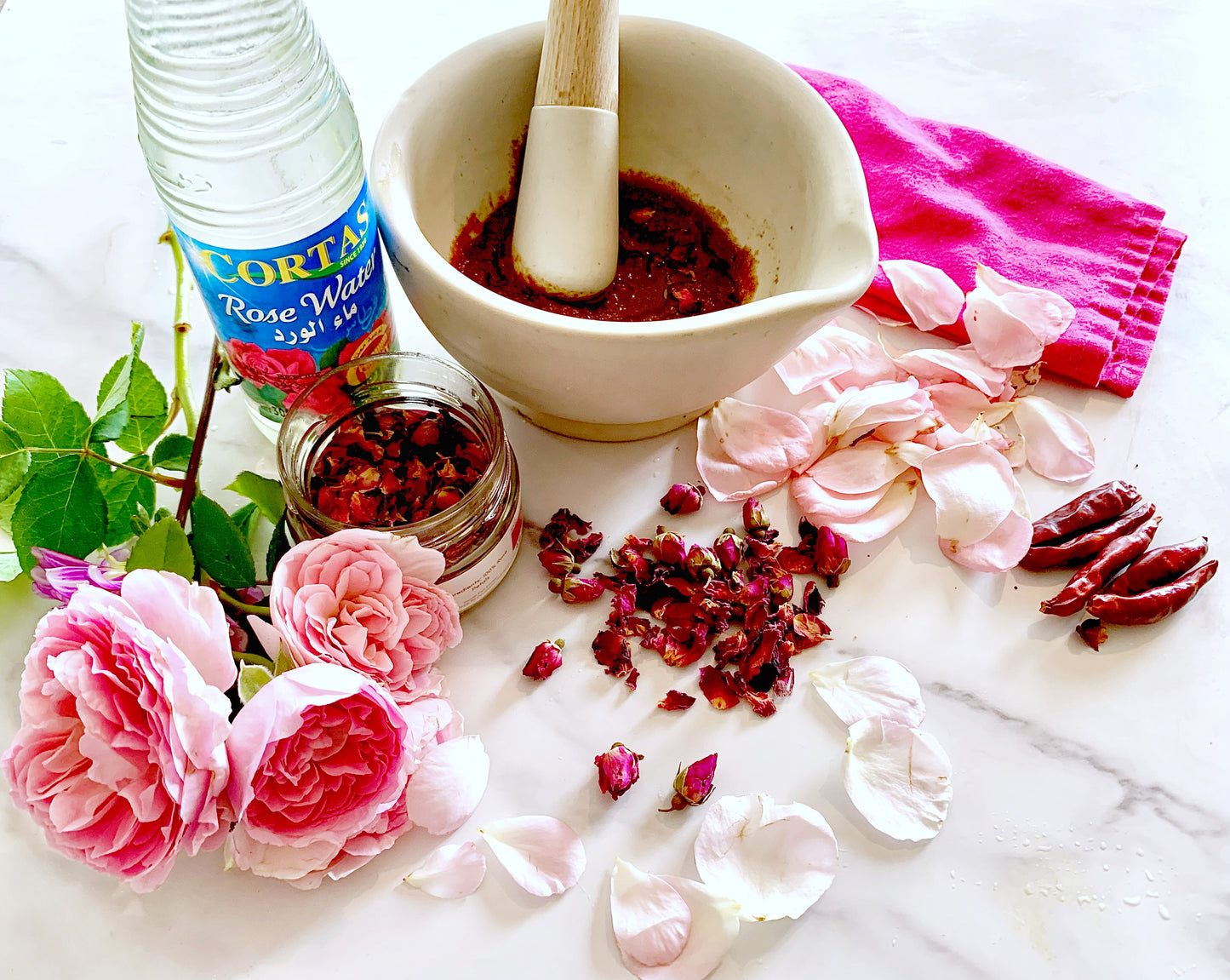 Rose adds the most intoxicating smell and flavour to any harissa, the floral overtones help soften the chilies and give it a romantic floral allure.  Rose harissa tastes wonderful on just about everything from roasted veggies and eggs, to meat and cheese.     
Here is a simple one bowl quick rose harissa. If you want to cheat, you can also add some dried rose petals and a little rose water to any supermarket harissa you have on hand. 
 Tablespoon dried rose petals 

1/4 teaspoon caraway seeds, ground in a spice grinder

1 tablespoon pure chilie powder, such as ancho or ground dried chilies of your choice

1 tablespoon smoked paprika

1/4 teaspoon cayenne

1/4 teaspoon ground cumin

1 tablespoon tomato paste

1 teaspoon fresh lemon juice or vinegar

1/3 cup extra-virgin olive oil

1 Tablespoon rose water

1 garlic clove, crushed

 Pinch of sea salt salt  (to taste)

Fresh rose petals as a garnish
In a mortar and pestle or spice grinder place dried rose petals and caraway seeds and grind into a powder. Add remaining ingredients and mix together. Garnish with fresh rose petals.
Pasta with Rose Harissa and Parsley Blossoms
Rose harissa makes for a lovely and unique addition to any tomato sauce. The following recipe is a simplified riff on Ottolenghi's 'Pappardelle with Rose Harissa, Black olives and Capers. Feel free to use the pasta of your choice.
Ingredients:
2 Ounces dry pasta  per a person,  boiled al dente in salted water

½ cup tomato sauce per a serving

Rose Harissa (to taste but plan on roughy 1 teaspoon per a serving)

Black olives, handful per a person

1 Tablespoons capers  per serving (optional) 

1 Tablespoon fresh parsley per a serving

1 Tablespoon yoghurt per a person (sour cream or heave cream may be substituted)

Salt and fresh cracked  pepper to taste

Fresh rose petals to garnish

Parsley blossoms as a garnish 
Bring pasta to a boil in a pot of salted water. While pasta is cooking heat up tomato sauce in a pan  and add rose harissa, olives, capers, yogurt and  parsley. Once warm remove from heat and toss with pasta. Garnish with rose petals and parsley blossoms.