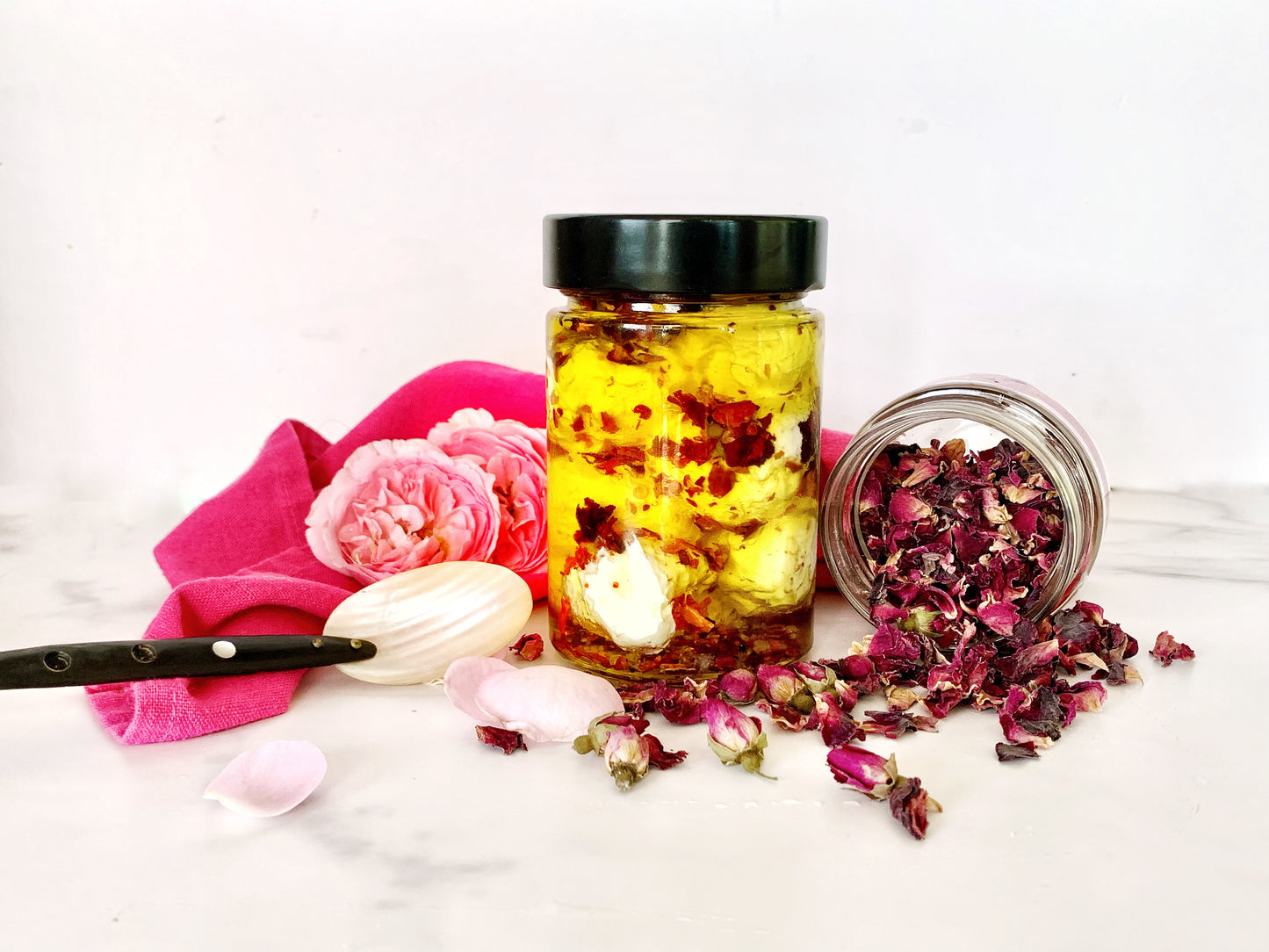 Rose Infused Labneh
One of our favourite flavour combinations is rose, sesame and honey. In this dish, homemade labneh makes the perfect base to bring forth the nuances of this delightful combo. 
Ingredients:
1 ½ cups greek yoghurt

1/2  teaspoon rose water

1 Tablespoon honey

1 Tablespoon Sesame seeds, toasted (either white or black or both)

1 Tablespoon pumpkin seeds, lightly toasted (optional)

1 Tablespoon sunflower seeds (optional)

Flaky sea salt or pink Himalayan salt (to taste)

Drizzle of honey

Drizzle of extra virgin oil oil

Pinch of sumac (optional) 

Rose Petals to garnish (fresh or dried)
Place yoghurt, rose water and honey in a bowl and mix together. Transfer to a muslin cloth and tie up the corners. Sit this in a sieve over a bowl in the refrigerator for at least 24 hours.
.After 24 hours the excess liquid will have drained leaving a lovely thick labneh. Spoon the labneh into a serving bowl and add sesame, pumpkin and sunflowers seeds. Sprinkle with flaky sea salt or pink Himalayan salt. Drizzle with honey and extra virgin oil. Add a pinch of sumac and rose petals to garnish. Serve with warm slices of pita or place on crispy baked french bread slices to make yummy crostini/
 The rose labneh also makes a wonderful accompaniment to many desserts. Just  omit the olive oil. One of my favourite pairing is rose labneh with grilled figs.
 Rose, Chili & Blck Pepper Spiced Labneh Balls
Chili peppers and fresh cracked pepper pair beautifully with the subtle intoxicating flavour of rose. Rose labneh formed into soft balls and marinated in rose, chili and pepper infused oil oil make the perfect gift.
Ingredients:
1 cup labneh (rose infused for extra floral flavour)

1 cup Olive oil/Canola oil (or enough to cover the labneh balls)

1 Tablespoon rose petals

2 Tablespoon chili flakes

1 teaspoon fresh cracked pepper

1 teaspoon sea salt
Place some chili peppers and rose petals in the bottom of a jar. Fill the jar half way with olive oil or a mixture of olive oil and canola oil. Roll labneh into balls and place in jar. Keep adding chili peppers, rose petals and salt and pepper. Make sure all ball are covered in oil. Store in refrigerator or up to 2 weeks.