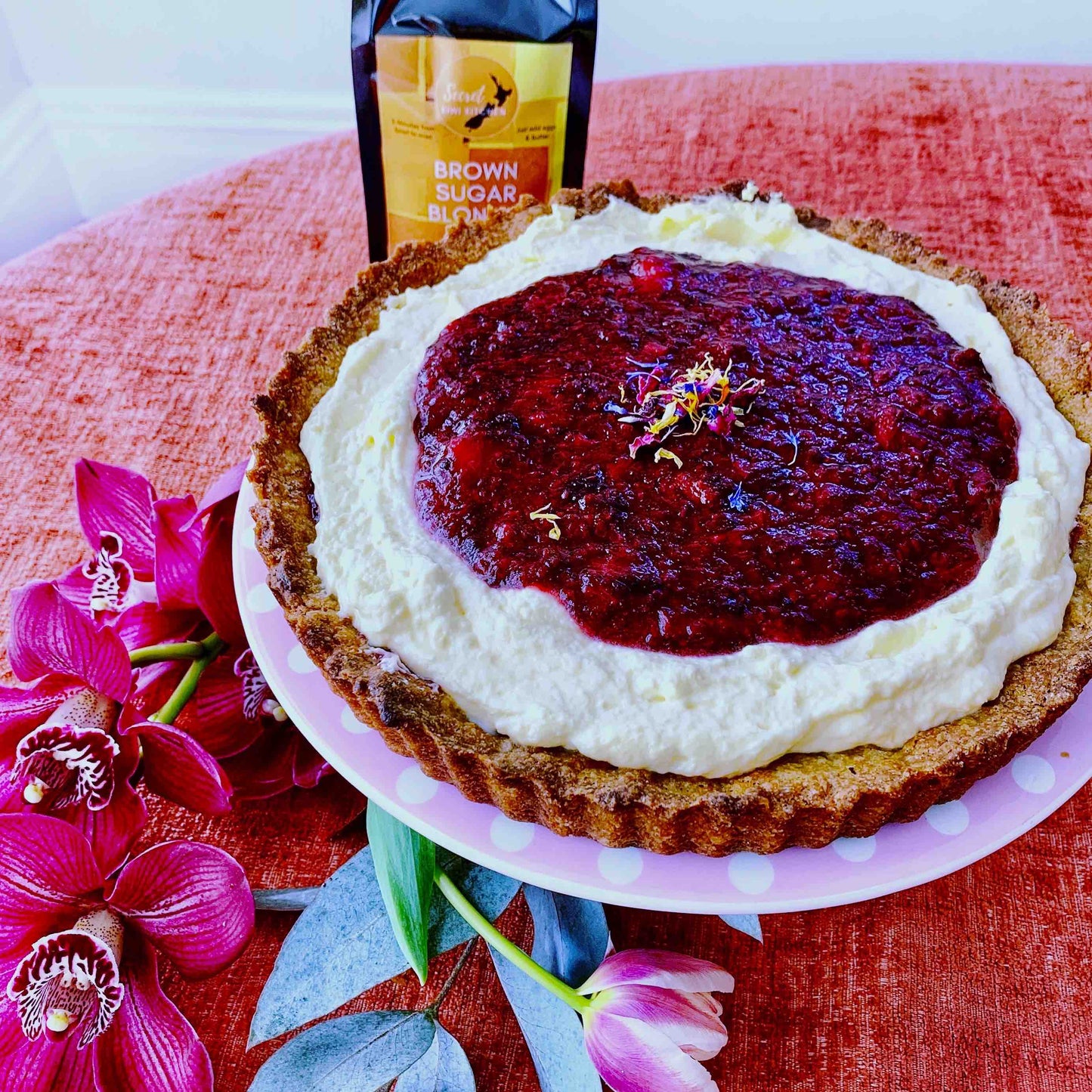 You know what we are loving? Finding out just how versatile and fun our blondie mix is! Our easy home baking mix makes so much more than blondie bars. They make a whole heap of different wonderful treats like: stuffed mini cakes, petit fours, pie bases, cookies. The choices are endless.
Just last week, Clare made this beautiful tarte to celebrate Lulu's anniversary.
Blondie Mix Tarte with Berries & Mallow Whipped Cream
Directions:
Preheat oven to 180c
Make up blondie mix as directed on the back of the bag. Spray a tart tin with oil.
Press the Blondie mixture into the tin and around the fluted edges. Poke some holes into the blondie mix base with a fork.
Lay baking paper over the blondie mix dough and pour on top of the paper some baking beans or real dried beans. This will help press down the blondie mix dough into shape as it bakes and sets.
Bake for about 15 minutes (you can use your judgement here on whether you want your tart crispy or softer crumb).
Pull out of oven and let cool completely.
For the topping:
Spread your favourite berry jam or compote over the cooled blondie mix crust. Whip some cream and add in some Marshmallow Fluff Sauce. This will give the whip cream a wonderful hint of sweetness but will also help the whip cream hold its shape.
We know from experience, that transporting desserts can be tricky. Yep, sometimes whipped cream can start to get a little melt-ey, especially in the NZ summer. 5 minutes in a car is a lifetime to a cream filled cake!! Our Marshmallow Fluff Sauce acts as a fantastic stabilizer...score! This Marshmallow Fluff trick is a secret saviour.
 Anyway, back to the tarte. To finish off, just top with a little more jam. Go crazy add fruit, flowers, powdered sugar, a drizzle of fudge sauce! The fun part about our easy home baking mixes, is that the boring prep is done, so you now have more time to unleash your creativity and add fun flourishes.
What's your favourite semi-homemade creation? We'd love to hear!