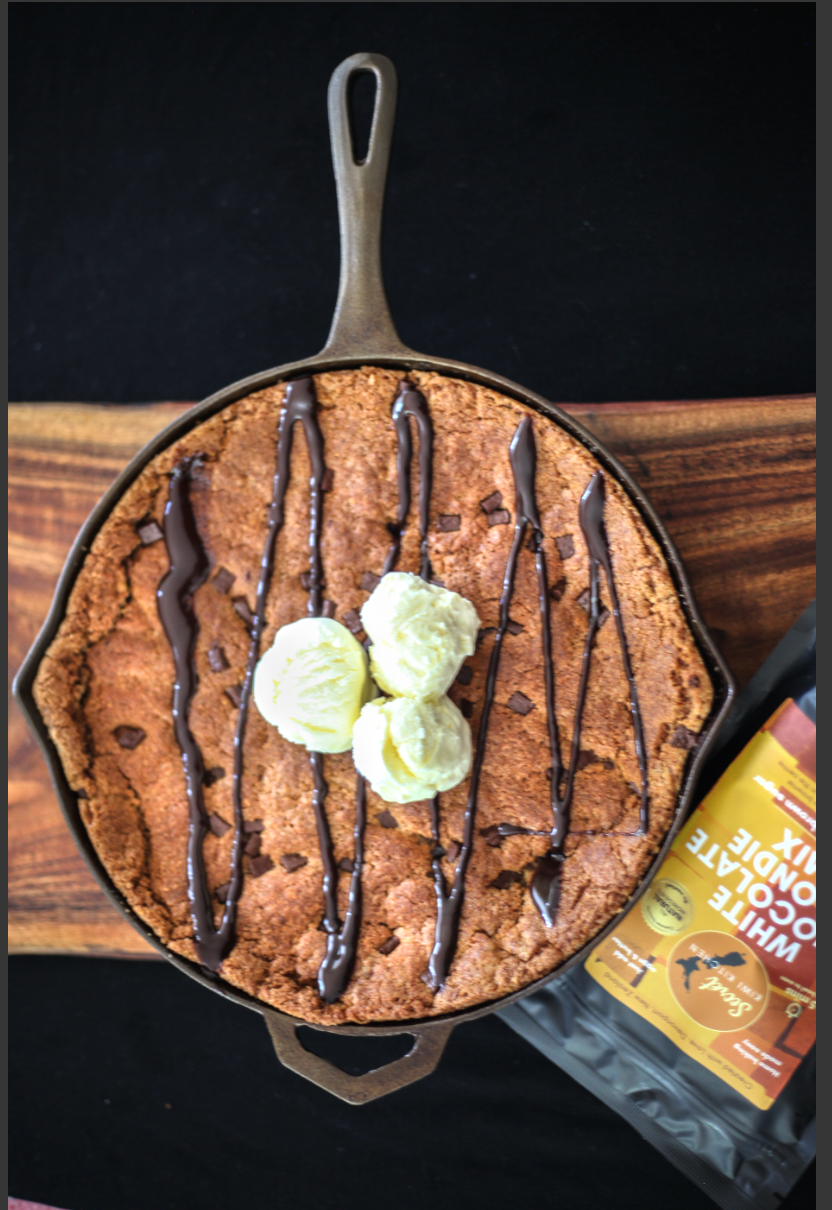 Our Brown Butter Tahini Skillet Blondies are decadently delicious, crispy and gooey in all the right places and full of irresistible nutty toffee richness. This is a know-your-socks off recipe that can be made in a few minutes using Secret Kiwi Kitchen's White Chocolate Blondie mix and a few secret additives. 
You Will Need:
2 Tablespoons Tahini
3 Tablespoons chocolate chunks/chips, preferable dark
Brown butter (in place of regular butter)
A cast iron skillet pan (any baking tin may be substituted but a cast iron skillet*, adds to the presentation, extra crispy edges and a super quick clean up!
Directions:
Grab yourself an SKK blondie mix and follow the directions on the bag.
Make sure to brown the butter and let cool a bit before adding to the mix
How to Brown Butter
Brown butter (buerre noisette) is a classic French staple in the kitchen. It's melted butter that has been gently cooked to add a rich nutty flavour.
Browning butter is pretty quick. Place pieces of butter in a  pan, light coloured is preferable as it is easier to gage the colour. Turn the heat to medium. Begin stirring to move the butter around as it melts. Once melted, the butter will begin to foam and sizzle around the edges. Keep stirring, the butter will turn a golden brown and foam as the milk solids on the bottom of the pan  toast. It will smell intensely buttery, nutty, and rich. Be careful not to over cook as you do not want burn't butter. Pull from heat and allow to cool before adding to the blondie mix as you don't want to melt the white chocolate chips.
Next add Tahini to the mix or if you prefer your favourite nut butter. As most nut butters are thicker, make sure mix them with a tablespoon or 2 of hot water to thin out before adding to the mix.
What is Tahini?
Tahini is a paste made from sesame seeds. We prefer a toasted Tahini if you can find it. Tahini gives these blondies a nutty flavour that balances the sweetness, It also contributes to a tender, slightly gooey center. 
Add the chocolate of your to the mix. We likedusing chopped dark chocolate, but you can use chips and the chocolate of your choice. SKK's blondie mix already has white chocolate chips -- so you need to add more than 3 Tablespoons.
Bake your blondie as usual at 180c. Keep an eye out and pull out a few minutes early if cooking in a cast iron pan, as the pan will continue to 'bake' the blondie. The blondie will be a lovely dark colour.
Allow to cool before adding chocolate sauce and icecream. Vanilla icecream pairs beautifully with the caramelly (we know it's not a word-- but it should be!) flavours of this spectacular blondie dessert. Hope you enjoy! 
* Our go to cast iron skillet, and one we can't rave enough about: is the NZ hand forged Legacy Pan by IronClad Co.