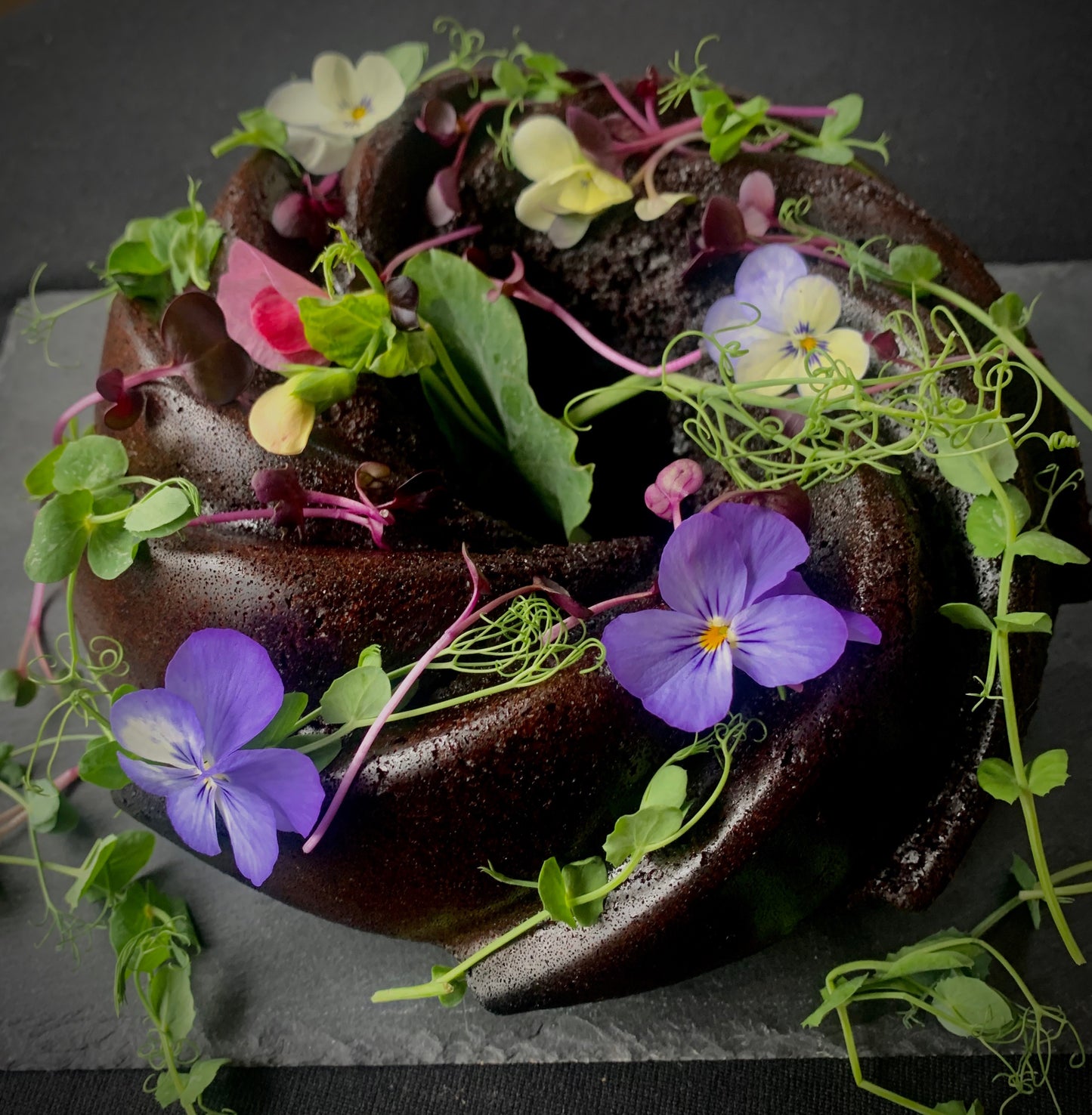 At Secret Kiwi Kitchen we love collaborating with other food lovers. We recently had the pleasure of meeting up with Alex McCall from Nude Greens.  He and his partner Katie, grow super delicious microgreens on her family farm near Bethel's Beach and sell them at farmer's markets and do direct to door deliveries as well.
Alex-- has a little bit of a sweet tooth and was smitten with the thought of trying his greens with our baking mixes. Like chili pepper-- he reasoned, his radish sprouts could give our chocolate cake mix an unexpectedly wonderful little kick. 
We both had fun playing around with cake and microgreens. We used our easy chocolate cake mix and baked it into a moulded bundt cake pan. We decorated the cake with baby pea shoots, edible flowers and red radish sprouts. The cake turned into the most incredible looking fairy cake! The kids were smitten and absolutely loved gobbling up cake and greens! How wonderful is that!
Alex had fun as well with Secret Kiwi Kitchen's chocolate cake mix.
He reported back to us "Your cake mix was ace! Super convenient and everyone loved it. Had a birthday party down the road and had been in the garden all day, whipped the bag up and voilà, I had a cake on my hands." 
We are tickled pink (or shall we say green?) that our all natural home baking mixes are indeed the a great treat for people who care about healthy living. With no nasties and primo ingredients, we're so glad we can make home baking easy and fun.
Any other ideas for collabs? Reach out-- we love experimenting and meeting new people!