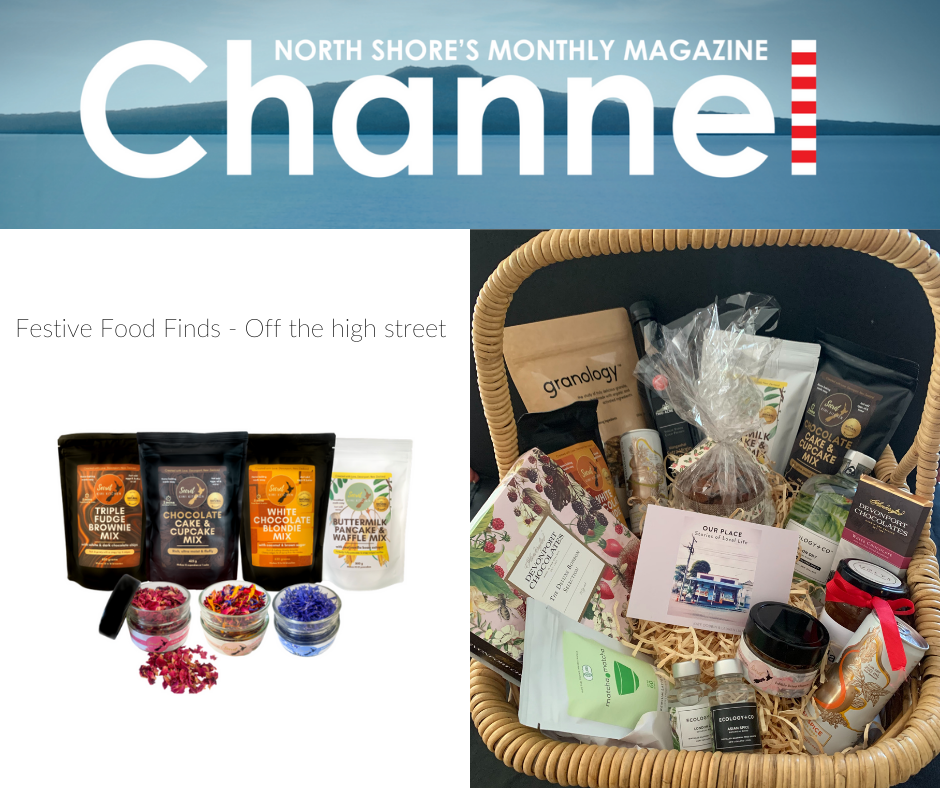 Check out
Secret
Kiwi Kitchen in this month's
Channel Magazine
.
Local Life NZ
(Lulu Is a Co-Contributor) has put together a fabulous gift basket to show off all the wonderful local products that are available for Christmas gifting! 🌲💚❤️
Festive Food Finds - Off the high street
For those wanting to shop local from the comfort of their home, look no further than Devonport's back streets to find a delicious array of Christmas gift ideas.
Some of our favourite holiday hamper finds include the following:

Custom Devonport baker Jayne Williams of Mintys slow bakes a mini but mighty Amaretto-soaked fruitcake with figs, sultanas and raisins. It's rich, dark and moist -- what more could you ask for in a Christmas cake? Also on offer are her Christmas-themed fondant covered sugar cookies.

Secret Kiwi Kitchen is a producer of artisan baking mixes owned by local duo Clare Gallagher and Lulu Taylor, and its products make a delightful addition to any hamper. They're so delicious you might just squirrel them away for yourself! Their jars of edible dried flowers make a great stocking stuffer and the Buttermilk Pancake mix is a welcome addition to the perfect Christmas Day breakfast.

Local couple Blair Hilditch and Jacqui Hooper produce 'a taste of Greece' with their Koroneiki olives that give a buttery and smooth extra virgin oil, the award-winning Two Acre Plot. Grown in Mangawhai and stored in stainless steel Italian vats in Devonport, Two Acre Plot offers free local delivery and bottle collection. It's super tasty as it hasn't been filtered and is a real treat for the food aficionados in your life.

 Add a touch of festive green by scooping up a pouch of Matcha Matcha, 100% pure organic Japanese Matcha green tea. Imported by local food producer Kate Moffat, it can be enjoyed as a tea and also added to lattes, smoothies and baking as the perfect pick-me-up for pre Christmas partying.

Di and Will Miller of Ecology & Co, producers of distilled alcohol-free spirits, create a wonderful alternative for those who prefer healthier imbibing. Exquisitely bottled, their range includes London Dry and Asian Spice botanical blends, plus a range of enticing prepared drinks and cocktail ideas for Christmas parties.
There's a host of artisanal food and beverage producers right here in Devonport -- Christmas shopping couldn't be easier, AND you're supporting local!
Read the Full Article Here