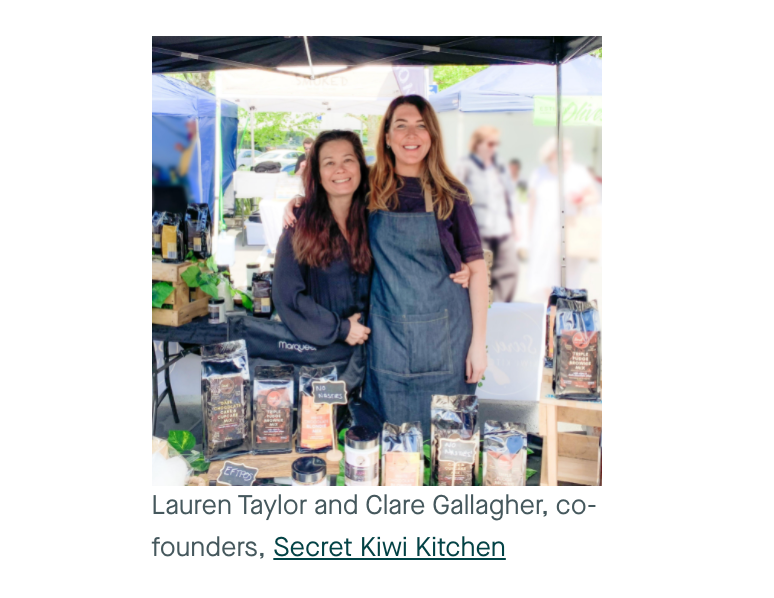 Catch our tips for starting a business with a friend in Prospra's Blog Article:
Secret Kiwi Kitchen
 founders Lauren 'Lulu' Taylor and Clare Gallagher
have put their friendships to the test by going into business together. Here they share their tips for making business and friendship flourish.
Start with common ground, good instincts and trust 
"Our daughters were best friends so Clare and I already knew each other pretty well, and we're both big foodies," says Lulu. "When she came over one afternoon to pick up her daughter and brought up the idea of starting a business together, I didn't hesitate. I didn't want to face the void of not working after my digital marketing work dried up because of COVID-19. Maybe I should have thought about it more! But I'm a big believer in opening a door and taking an opportunity. And I trusted Clare deeply and knew that we shared the same values and were very family-oriented." 
"Our daughters were really worried that our partnership might impact their friendship though," says Clare. "They were more nervous than we were about us working together!" 
"Early on in our partnership, my husband led Clare and I on a vision walk where we imagined our business three years from now then walked back year by year," says Lulu.
"It was very powerful," remembers Clare. "Even though I made fun of him at the time for being very 'California guru' about it! But it made us think about our business in a larger sense. And when things get tough, we return to that vision – together and individually." 
"We have a meeting every month to touch base and make sure we are aligning with our vision as well as making the right adjustments given challenges like COVID-19," says Lulu. "When you have a small business start-up, the list of micro problems is endless – it's easy to get lost in them. This meeting allows us to step back and look at the big picture more strategically." 
Play to your strengths, complement your differences and have each other's backs
"It became evident very quickly that Clare and I had different strengths," says Lulu. "Clare is a great storyteller, and good at talking and connecting with people – she takes on more of the sales side and I do more marketing and operations." 
"But even when you're focused on your preferred area, you have to be ready to jump in and help out your partner," says Clare. "If they go away or get sick or have family commitments, you need to be ready to pick up the slack." 
"And don't forget to be each other's cheerleader!" says Lulu. "In a traditional work environment, you get used to feedback and people telling you you're doing a good job. When you're running your own business, it can sometimes feel a bit thankless. So you have to cheer each other on." 
Have permission to speak frankly, take a breather and put it in writing
"When you start a business with a friend, you are working non-stop together. It's very intense. And sometimes you need a break from each other! Or at least the opportunity to socialise together without talking business," says Lulu.  
"We have an agreement that on weekends, we're not allowed to text each other about business," says Clare. "It's not easy but those boundaries are important for our friendship." 
Both agree that a written agreement is a sensible option that gives peace of mind and a useful foundation for sorting out any potential difficulties. 
And what about Lulu and Clare's daughters? "They are still best friends!" says Clare. "It turns out that their mums starting a business together wasn't so bad after all." 
Read the full article HERE