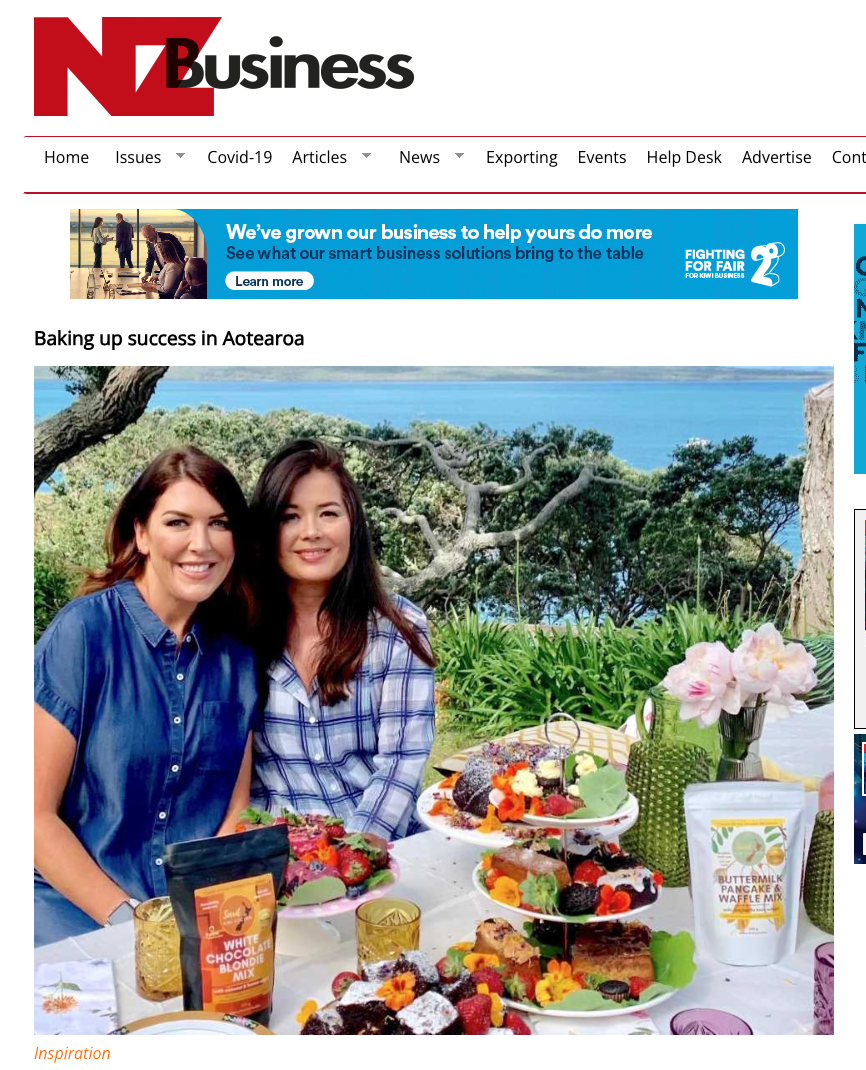 We're thrilled to share some exciting news! Secret Kiwi Kitchen has been featured in NZ Business Magazine, and we couldn't be more delighted.
The article, titled "Baking up success in Aotearoa," dives into our journey, highlighting how we've grown and succeeded in New Zealand. From our humble beginnings to our commitment to local ingredients, it's a testament to the hard work and dedication of our entire team. 🍰🎉
We want to express our sincere gratitude to NZ Business Magazine for this wonderful feature. Your support means the world to us, and we're excited to continue baking up success in Aotearoa!
------
When life threw lemons at Lauren 'Lulu' Taylor and Clare Gallagher, they didn't just make lemonade; they baked up a storm, creating Secret Kiwi Kitchen.
Over the past three years, the dynamic duo has taken their baking business from strength to strength, proving that even in uncertain times, a sprinkle of Kiwi ingenuity, a dash of ambition, and a whole lot of determination can create something truly sweet. Secret Kiti Kitchen was born during Auckland's second COVID lockdown when Lulu, like so many other Kiwis, lost her job due to the pandemic. Clare was also facing a challenging time as her husband's work contract was ending, and she was keen to re-enter the workforce. However, it was an era when layoffs seemed to be the norm rather than the exception. With a mere $1,000 at their disposal, Lulu and Clare embarked on their entrepreneurial journey, determined to turn their dream into a reality.
They started small, with improvised solutions, from gluing paper labels onto pouches during the first lockdown to building their website and handling graphic design, marketing, and product development themselves. They left no stone unturned. Their families joined in, with their husbands assisting with financial modelling and distribution to their kids packing orders and applying stickers.
Strong growth
Secret Kiwi Kitchen now graces the shelves of more than 500 retailers, including major names like Countdown, Briscoes, and New World.
But the journey hasn't been without challenges. From supply chain hiccups to unprecedented inflation, Lulu and Clare have faced their share of trials. Both still juggle extra jobs in addition to Secret Kiwi Kitchen – Lulu as a marketing executive and cookbook author and Clare as an actress and sales consultant.
As so many small business owners know, owning your own business means you pay yourself last. Lulu and Clare's incomes often fluctuate as they currently use profit from the company to fund growth.
Local roots, global dreams
Although opportunities to expand to Australia and Singapore have arisen, Lulu and Clare remain focused on growing their local footprint before overextending themselves overseas. They understand the importance of supporting local businesses, and they proudly champion the idea that when you buy from a small business, you're investing in someone's dreams, whether it's ballet lessons for the kids or helping them to share their passion.
"In a small market like New Zealand, it's not just about transactions; it's about relationships," says Clare. 'When you buy local, you're not just purchasing a product; you're becoming a part of something bigger, something rooted in the heart of our community. "Every day, we are amazed by the support we're receiving in New Zealand. Our customers are not just customers; they're our SKK whanau. My favourite part of the business, besides recipe testing, is when customers call me up and we chat about baking and their food celebrations."
As Clare and Lulu humorously put it, if they were as successful in the US and England as they are in New Zealand, they might be rich and not juggling multiple jobs and passions. But they wouldn't have it any other way. They take immense pride in what they've achieved – offering great products featuring New Zealand ingredients and connecting with their loyal customer base. "Our goal is to keep creating products that make Kiwis' lives easier and that are delicious," explains Lulu. "We are proud to offer a local alternative that tastes great and embraces premium New Zealand ingredients. We believe New Zealand has the best ingredients in the world and our passion is to keep developing next-generation mixes that feature the finest New Zealand has to offer.
Their current award-winning product range includes: Triple Fudge Brownie mix; White Chocolate Blondie mix; Chocolate and Vanilla Cake & Cupcake mix; Buttermilk Pancake Mix and a range of edible botanicals.
Sweet future ahead
As Secret Kiwi Kitchen continues to flourish, Clare and Lulu's dreams are boundless. With a treasure trove of ideas and products already formulated and ready to go, the future holds tantalizing possibilities. In their pursuit of expansion, they acknowledge that seeking outside investment and expertise may be a logical step. This infusion of resources would not only fuel their growth but also bring fresh perspectives and strategies to propel them even further forward.