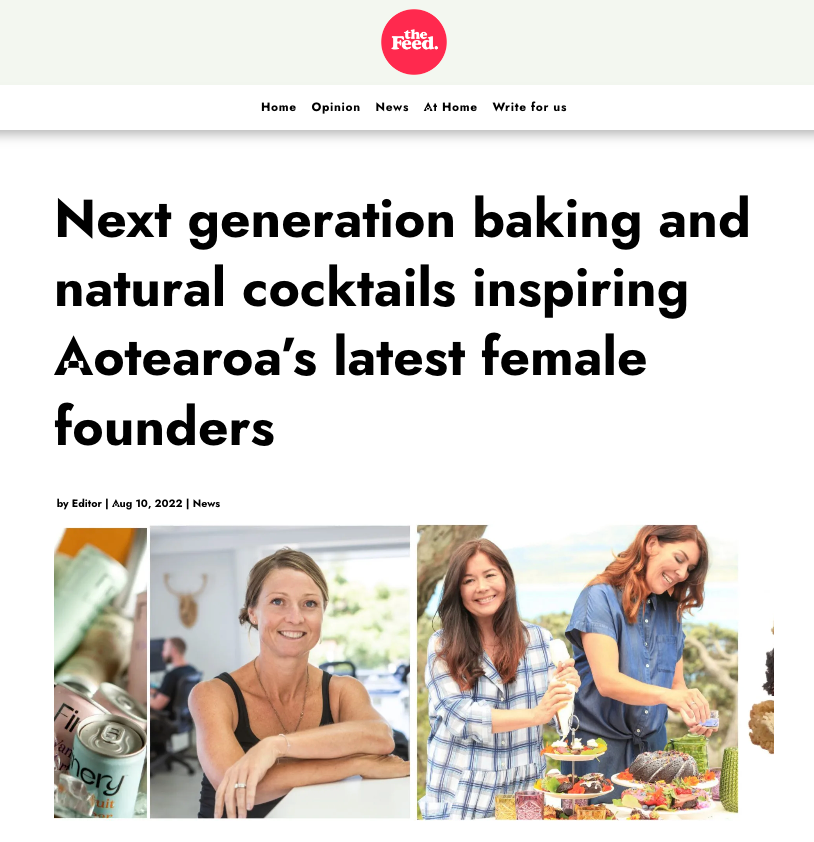 Secret Kitchen and Finery Cocktails in pick of Aotearoa's latest female founders to go before judges this month, share insights on the journey so far.
Some of us spent lockdown bingeing on TV shows while others spent it dreaming up new business ideas. Going by the latest impressive line-up of RISE UP finalists, New Zealand's latest pick of female founders spent the pandemic innovating, problem solving and putting their heart and soul into dreaming up new start-ups.
"I love the fact that most of our finalists' businesses were born out of lockdown. It demonstrates that creativity and innovation can emerge from our most tough times. We're excited to help grow the capability of these aspirational female founders and I can't wait to see what these businesses achieve", says Soda CEO, Erin Wansbrough.
Soda, the Hamilton-based business incubator and advisory service, created RISE UP to encourage and support ambitious female founders. "For a long time, Aotearoa's entrepreneurship ecosystem has been male dominated but there are many of us working hard to challenge the bias and balance that gender inequity," says Wansbrough. "Judging by the number and calibre of entries we received, I'm confident that female entrepreneurship in Aotearoa is moving in the right direction."
The six RISE UP finalists were announced in June of this year and are about to be judged later this month. All finalists will attend a series of founder-focused workshops before pitching their business to a public audience and panel of high-profile judges at Wintec House in Hamilton on 17 August, to try to win $10,000 to help propel their business to the next level.
Finalists include a diverse group of female entrepreneurs who have developed biodegradable coffins made from cardboard, eco-friendly toothpaste, sustainable cleaning products and an app that encourages healthy spending and saving habits. Two foodie offerings with product set to tantalise the tastebuds are Secret Kiwi Kitchen's artisan baking mixes, and Finery Cocktails' ready-to-pour zero alcohol cocktails.
Secret Kiwi Kitchen
Secret Kiwi Kitchen is an artisan food business launched in August 2020 during Auckland's second lockdown by two local mums, Lulu Taylor and Clare Gallagher. Wanting to make baking accessible and easy for everyone, they created a range of easy-to-make one bowl mixes that feature premium New Zealand ingredients and all-natural ingredients. Having started Secret Kiwi Kitchen from the kitchen table with only a few hundred dollars, their products are now in homes and over 200 stores across New Zealand.
The two entrepreneurs say they started the business after Taylor lost her digital marketing job after Auckland's first lockdown in the winter of 2020. Gallagher also wanted to get back into the workforce as her youngest had just started school, but with the pandemic on, and so many job seekers, both knew jobs would be hard to find. The lockdown created a unique opportunity – time and opportunity to focus on their shared passion – making and sharing beautiful food. The initial plan was to start selling fudge sauces at the farmer's market, but realising they needed something to put the sauce on for taste tests, they came up with their own brownie mix.
During Auckland's second lockdown in August of 2020, Taylor and Gallagher decided to launch Secret Kiwi Kitchen early as they wanted to get people baking mixes while stuck at home. Five weeks later, riding the wave of a renewed interest in home baking, they were selling their mixes nationwide.
Time-crunched cooks
The two had spotted a simple trend. Kiwis have a long tradition of home baking which has historically suppressed demand for premix baking products. But Kiwi kitchens are changing as millennials and young families lack the time or baking knowledge of their parents and have grown up in a more 'on-demand' culture. The pair's research also showed that women over 65 also appreciate the simplicity and ease of pre-mix products. All this came together to create a gap in the market for the pre-mix baking category. "We fill that gap with high-quality, easy-to-make products that empower new bakers and time-crunched cooks. We offer attainable luxury in a simple, satisfying bite", says Taylor.
The two founders say funding growth has been their biggest challenge so far in the entrepreneurial journey. "As wonderful as it sounds, growing quickly often creates financial pressure", says Taylor. While Secret Kiwi Kitchen became profitable in its first year, we have chosen to continue to invest our profits towards rapid growth.
Reaching out
Taylor says the New Zealand business community is incredibly supportive. Her advice for other female entrepreneurs is to not be afraid to reach out and talk to anyone that can help you on your business journey. "From customers to other CEOs – there are golden nuggets of advice to be gathered", she says.
Gallagher agrees. "There's never been a better time for women to stand up as business leaders and get their vision and voices heard. My advice to any woman thinking of starting a business is, don't put it off another day. Be brave, take the first step! And as Lulu said, there are lots of other women in business who are more than happy to help if you reach out."
The two entrepreneurs say if they won RISE UP, they would use the money to establish a new sales channel in an APAC country or the USA, bringing them closer to their dream of bringing Kiwi products and Secret Kiwi Kitchen to the kitchens of the world.
Read the Article HERE